Living on Campus
Make your plans for Fall 2019 arrival: 
New students move in at Pontchartrain Halls on Saturday, August 10
beginning at 9 am.
Returning students move in at Pontchartrain Halls on Sunday, August 11 
beginning at 9 am.

Review our Packing List as you begin to prepare for your new home
at the University of New Orleans!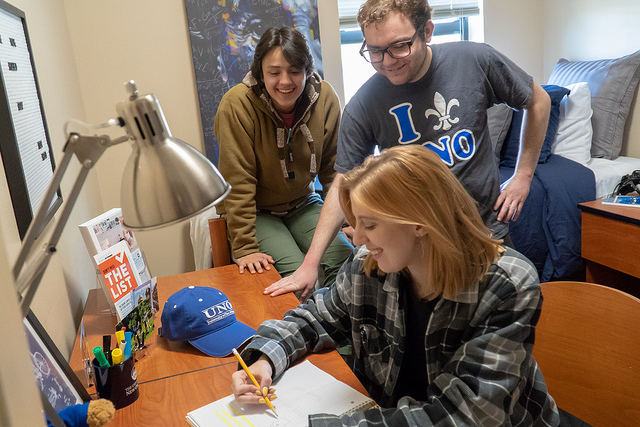 At the University of New Orleans, you will have the opportunity to form friendships and relationships with people from diverse backgrounds that can benefit you and your career long after you leave the University. With these new friends, you can enjoy campus life and the charms of the city of New Orleans. Our mission is to provide our resident students with the highest quality living and learning environment at a reasonable cost.
Pontchartrain Hall, Lafitte Village and Privateer Place pages below give additional details about the three available on campus housing options for University of New Orleans students. Students whose home residence is more than 40 road miles away from our Gentilly campus must reside on campus for their first year according to our On Campus Residency Requirement. Students who live on campus perform better academically and are more likely to progress towards graduation. Apply for your community of choice today! 

Pontchartrain Hall features 1 bedroom, 2 bedroom and 4 bedroom suites and academic-interest based floors. 
Privateer Place features efficiency units, 2 bedroom and 4 bedroom apartments, a clubhouse, pool and more
Lafitte Village features unfurnished 1 bedroom and 2 bedroom apartments for graduate students, married students and students with families.